IMPORTANT NOTE
Please book your tickets online or give us a call at 08 9227 7377 before your visit. 
Important Note: Some days we open late or close early for private functions or events. On these days the last available session for booking will be 1 hour before the function start time. All visitors will have to leave before the function begins. This means that if you have booked the last session of the day, your visit will have to be completed within 1 hour. In order to ensure you get the most out of your visit, please give us a call to see times when we are opening late or closing early for functions.
UPDATE: 1st June 2020
Due to COVID-19, The Nostalgia Box is currently closed but will re-open Friday 19th June 2020 Please keep up to date with us on our social media pages
We recommend you allow 1 hour for your visit, however, the time you stay is not limited on a normal day where no private function is being held. 
OPENING HOURS
DUE TO COVID19, OUR STANDARD OPERATING HOURS HAVE CHANGED
We re-open on FRIDAY 19TH JUNE 2020.
Our opening hours will only be Friday-Sunday during the day with after hour events scheduled. Until the July School Holidays where we will be re-opening 7 days a week
Friday               11am – 4pm

Saturday           11am – 5pm

Sunday             11am – 4pm
Closed on 22 Dec – 26 Dec & 31 Dec – 1 Jan.
Open 7 days during WA School Holidays. Extended operating hours available to private event bookings.
Not open on WA Public Holidays, unless otherwise stated. 
Always book your tickets online or call us!
ADMISSION FEES
Adult: $18.70
Child (5-15): $13.20
Family(2 adults 2 children): $55
WA Concession holders: $16.50
Students over 15

Australia Government senior cardholders

Centrelink cardholders

Fulltime Western Australia (WA) student cardholders

Companion Card for disability carers
A valid WA concession card must be produced to gain concession entry.
Children under the age of 5 are free but must be accompanied by a paying adult.
A paying adult must accompany children under 10 years.
A valid Companion Card must be produced to gain free entry for the companion.
HOW TO FIND US
FREE BUSES: Hop on any free Blue CAT buses in the city and hop off at Stop 6 Art Centre or Stop 7 Central Institute on Aberdeen St.
PARKING: Plenty of street parking on Aberdeen St and Newcastle St.Undercover parking available on Lipfert St and Francis St.
GOOGLE MAP: Type in The Nostalgia Box in the search function. 
PUBLIC ART: Watch out for this public art. We are just beside it.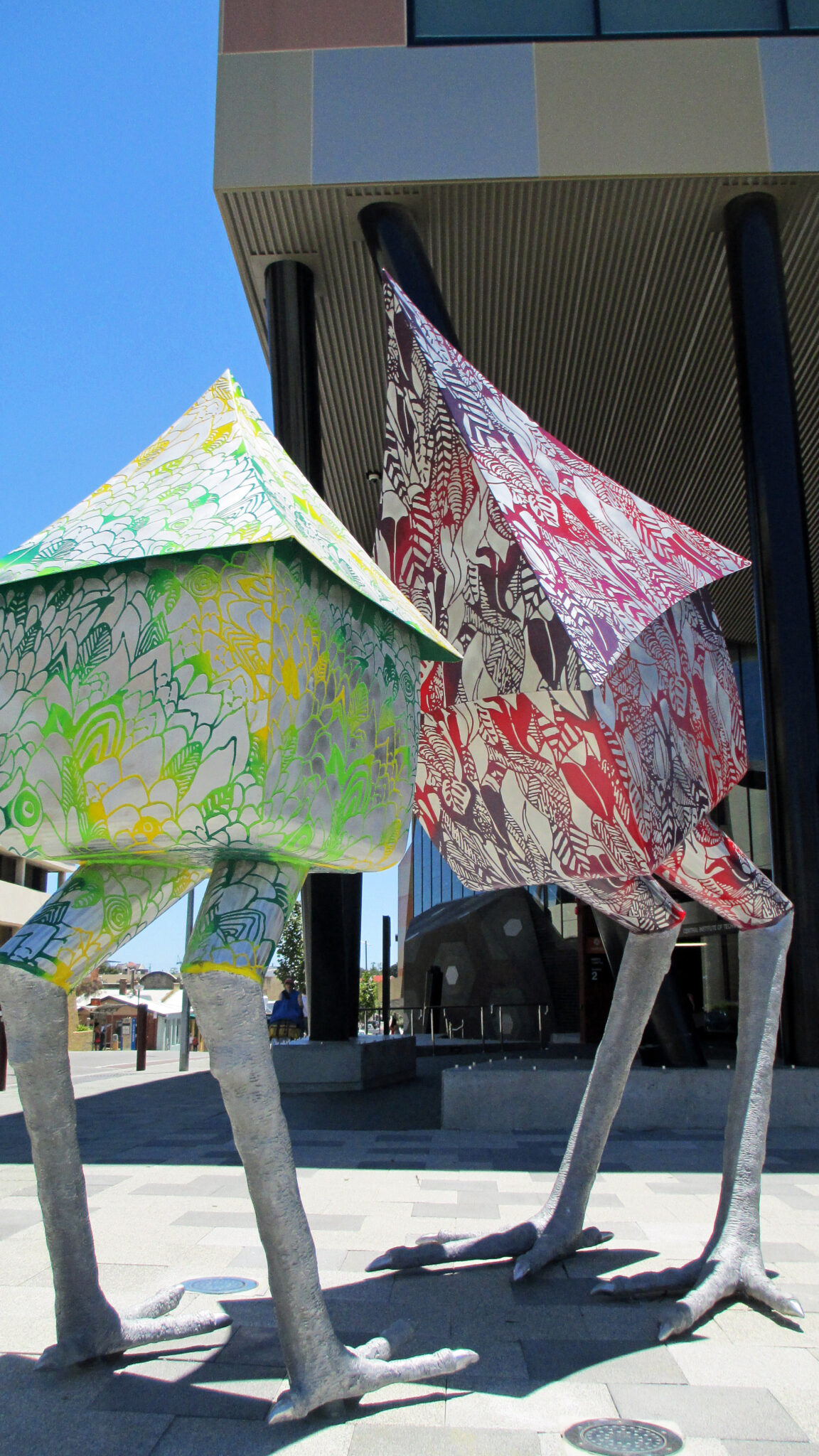 FREQUENTLY ASKED QUESTIONS
Do I have to book to come in?
In short – YES. You can book your tickets on our website or give us a call on 08 9227 7377. If you are booking for a group of 4 or more over the phone, a full payment over the phone is required. Walk-ins are of course allowed but you do run the risk of either being turned away if we have a private function booked during that time. Avoid the risk and book online 🙂
I have never been, what do I do at the museum?
Start off your visit with a self-guided tour through our museum section. The museum contains more than 100 consoles, representing the evolution—and sometimes revolution—that occurred from the 1970s through the 2000s. Then head over to our gaming area and play a plethora of classic video games, such as  Pong, Space Invaders, or blast through levels of Super Mario Bros, Sonic the Hedgehog, Alex Kidd, and Crash Bandicoot and many more.
Do you have arcades or pinball machines?
We have a few awesome arcade machines but no pinball machines.
Do I require a ticket if I am not interested in playing the games?
There is no reason for you to purchase a ticket if video game history and gaming aren't your cup of tea. You are more than welcome to sit and wait in our gift shop area or better yet, explore Northbridge and Perth City while you're waiting!
Do I require a ticket if I am only here to supervise?
If the children are under the age of 10, we will require the children to be accompanied by a paying adult.  Many of our consoles are old and delicate, proper supervision is required when young children are handling the consoles. In other circumstances, you are welcome to wait in our gift shop area.
What if I am interested in only one section of the museum (ie Either history or gaming)?
Unfortunately, we do not have a separate ticket for each section. But we can assure you both sections are interesting in their own way and we highly recommend our visitors to take the time to explore the entire museum.
Do you accept companion cards?
Yes we do!
Do you accept credit cards?
We accept both cash and cards and even Amex!
ENTRY TERMS AND CONDITIONS
Damages:
Consoles in the museum are old and delicate, please take extra care when handling the consoles, controllers and games.

Parents/Guardians are to supervise children under their care at all times. There will be no running in the museum; pulling, hitting, banging on any of the consoles and controllers are strictly prohibited.

Visitors are responsible for taking all reasonable precautions to protect the venue, equipment, exhibits or other property of The Nostalgia Box

The cost of accidental or negligent damage, deemed to be in excess of normal wear and tear, will be passed on to the visitor.